How niche can you get? The iPhone, which will surely attract more than 100,000 applications by the end of next year, can assume the functionality of a slew of devices – MP3 players, portable navigation devices, digital cameras and camcorders, language translators, electronic dictionaries, remote controls, stopwatches, voice recorders, flashlights and more.
Nonetheless, two products came to light this week that specialize in snippets of functionality – information appliances of sorts to use the mid-'90s terminology. The $199 pictured Red Light Camera Detector, available exclusively from New York specialty retailer  Hammacher ("We were here before The Sharper Image was a blurry idea.") Schlemmer uses a database of red light cameras and GPS to alert drivers when they are approaching such a monitored intersection.
While I can't remember the last Hammacher product to attract so much attention online, much of it has been negative, surrounding its duplication of functionality and requirement of manual updating. Indeed, this seems more like a $99 or less product, particularly given the plummeting prices of portable navigation devices that cold easily replicate its functionality. Still, many ignore or don't realize, though, that Hammacher and Brookstone customers are driven more by novelty and design and usually aren't concerned about purchase optimization.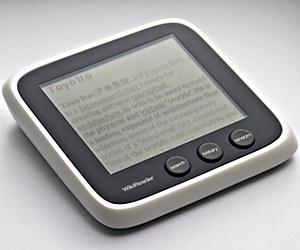 The second and decidedly plainer looking device is the WikiReader, a gadget from open source wireless developers OpenMoko. Yet, the WikiReader is not wireless. It too relies on regular updates that are delivered via microSD card. Sure, it's functionality is also replicated by a number of iPhone applications or even any handset with a decent Web browser. Still, the notion of a reasonable $99 encyclopedia that can be toted nearly everywhere has a certain downmarket appeal. While it is no substitute for a real Internet connection, it would be nice to see it patch a few open spaces in the digital divide.
Market potential aside, both of these products would be greatly added by some level of free wireless Internet access; neither would consume much bandwidth. The infrequency with which they'd need to be updated might even be an opportunity to revisit the old paging networks. (Don't laugh. Remember the BlackBerry started there.) But  I see their ilk as more likely candidates for that elusive white-space network. One thing's for sure. We've not seen the last of service-specific devices.