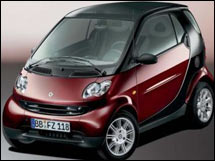 After much on-again, off-again debate, CNNMoney cites a Detroit News story that DaimlerChrysler will bring its compact Smart cars over to the U.S. in 2007. We'll be getting the "real" Smart car popular in Europe and Canada, the ForTwo, as the larger ForFour has been a financial disaster for the automaker.
I have mixed feelings about the Smart. Oh sure, it's possibly even cuter than the Beetle or Mini and gets 60 mpg, but I'm not a fan of the two-tone swipe and — like ultracompact notebook PCs — it's not inexpensive; Smart's European configuration sites even offer leather interiors. Sure, it has great youth appeal for the hip urbanite, but most entry-level car buyers would likely gravitate to an offering like the Toyota Yaris, Chevy Aveo, or maybe even the better proportioned Scion xA.
In terms of iPod integration, two approaches recently surfaced that bring us back to the days of the CD or cassette player, allowing car owners to insert their iPods directly into their car stereos. Macsimumnews reports on DashJack, which is apparently developing an aftermarket head unit that can accommodate any dockable iPod. The company has filed a patent for its approach. Mitsubishi has also shown an in-dash slot (pictured) that would be able to accommodate an iPod nano in its funky Japan-only iCar (which actually resembles an elongated Smart).
Other manufacturers are offering alternatives. One of the most simple yet clever responses to portable MP3 players (and cell phones) I saw at the New York Auto Show a few months ago was inside the machismo-exuding Dodge Caliber. A panel on the adjustable center console flips forward to secure such a portable device in a rubber-lined compartment.